Garden Pests Part 2
Lawn Disease—Brown Patch
PROBLEM
Brown patch can be found throughout the country and attacks Kentucky bluegrass, centipedegrass, Bermudagrass and bentgrass.
Likes high humidity and shady spots. Starts as a small brown circle, then grows. Spreads outward, often to several feet in diameter.
SOLUTION
Use a lawn disease control product that can be applied on all types of lawns to prevent and cure all major lawn diseases. Once you know that you have brown patch, you can ask for a treatment product in a garden center.
Lawn Insects—Ants, Fleas, Ticks & Mosquitoes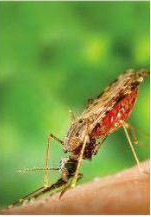 PROBLEM
The lawn is a place for many common insects to breed, live and hide out from predators.
Ants move from the lawn into the home in search of food. Fleas use the soil to lay their eggs and hide before jumping onto our furry friends. Mosquitoes never stray far from where they hatch, so spray an infested area to get rid of the problem.
SOLUTION
Apply an insect killer to the lawn and around living spaces to prevent insects from ruining the fun your backyard has to offer. Certain lawn in¬sect killer products kill more than 180 types of insects, including above- and below-ground insects.